EXCELLENCE IN WHEEL SERVICE
Hofmann has been a partner to automotive garages and tire shops for decades. For more than 80 years our name has been synonymous for delivering precision, quality and innovative garage equipment. It is our goal to provide the latest technology and user-friendly features to meet the needs of automotive service professionals.
Our Mission: To be the most valued productivity solutions in the world.
Beliefs
Values
Vision

Non-negotiable Product and Workplace Safety
Uncompromising Quality
Passionate Customer Care
Fearless Innovation
Rapid Continuous Improvement

We demonstrate Integrity
We tell the Truth
We respect the Individual
We promote Teamwork
We Listen

Brands of Choice
Employer of Choice
Franchisor of Choice
Business Partner of Choice
Investment of Choice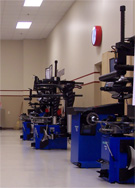 State-of-the-Art Training Facility
The Jack D. Michaels Training Center located at Snap-on Equipment offers training on automotive service equipment, customer service and effective sales strategies. Classes are available to direct sales agents, distributors and end-users of Snap-on Equipment Products worldwide. The state-of-the-art facility includes classrooms equipped with the latest computer technology, an expansive service training area and an engineering lab.
The training center operates 42 weeks a year with classes accommodating up to 20 trainees per session.