Product Overview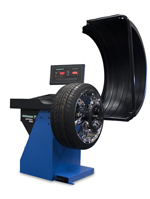 EEWB703D
The Hofmann geodyna 2600 premium wheel balancer is designed for multi-bay repair shops and professional tire stores that require maximum speed and accuracy. The geodyna 2600 takes advantage of our patented Virtual Plane Measurement (VPM) technology and features Hidden Spoke Placement (HSP) and Operator Selectable Positioning (OSP) balancing modes. The geodyna 2600 also features semi-automatic entry of wheel diameter and distance, and automatic wheel weight indexing. This time-saving feature rotates the tire automatically to the correction location.

Click on one of the section titles to learn more about the geodyna 2600 Wheel Balancer.
Features
---
Use the geodata gauge arm to quickly and accurately capture wheel distance and diameter, and also to place tape weights behind spokes or on the inside edge of the wheel.
| | |
| --- | --- |
| | |
| Inner Geodata Gauge Arm Measures Wheel Distance and Diameter | Inner Geodata Gauge Arm also places tape weights behind spokes or on inner edge of wheel |
---
Improved balancing technology has 512 precise weight positions, twice as many than other brands. Special "User-Calibration" calibrates balancer in two easy steps, guaranteeing accuracy.
---
The geodyna 2600 series is equipped with ten different balancing modes, five alloy modes, two hidden weight, "Pro-Match" tire/wheel matching, dynamic and static to handle most wheel applications.
---
Patented Hidden Spoke Placement allows the operator to hide correction weights behind the spokes on expensive wheels that have no outer flange. Patented Operator Selectable Positioning allows the operator to select the correction location by wheel design.
---
Back To Features List | Back To Top | *Patented and/or Patent-Pending Features
Specifications
| | |
| --- | --- |
| Centering Cone Range | 1.625" - 4.5" |
| Shaft Diameter | 40 mm |
| Measuring Speed | 200 rpm |
| Maximum Wheel Width | 21" |
| Maximum Wheel Diameter | 30" |
| Maximum Tire Diameter | 44" |
| Maximum Wheel and Tire Assembly Weight | 150 lbs. |
| Motor | 1 HP (acceleration HP) |
| Cycle Time | From 6 seconds |
| Read-Outs | Gram or Ounce |
| Accuracy | 1g or 0.05 oz |
| Balancing Modes | 10 |
| Dimensions (DxWxH) | 62"x52"x58" |
| Shipping Weight | 400 lbs. |
| Power Requirements | 120V, 1Ph, 60HZ |
Accessories
Standard Accessories
Optional Accessories
Part Number
Description
EAK0221J31A
7 Cone Kit (1.7" - 6.3")
8100068
Light Truck Cone Kit for ½, ¾ & 1 Ton (4.25" - 6.85")
2401776
Truck Cone Kit for ¾ and 1 Ton (7.7" - 8.75")
8100006
Universal Front-Mount Lugnut Adapter (3, 4, 5, 6, and 8-stud)
8100007
Universal Rear-Mount Lugnut Adapter (3, 4, 5, 6, and 8-stud)
2402262
80 mm Truck Studs (Set of 5. Requires 8100006)
2402263
70 mm Standard Studs (Set of 5. Requires 8100006)
2402265
80 mm Porsche Studs (Set of 5. Requires 8100006)
2402266
73 mm Spring-Loaded Studs (Set of 5. Requires 8100006)
6411408
ZipLock Quick-Nut
6415368
8" Alloy Pressure Cup
2400551
Motorcycle Balancing Kit. Includes:

Tapered Mounting Cones (2 each)
Centering Bushings (2 each)
1101303 (Spanner Wrench)

2000561
Harley-Davidson ¾" Shaft Kit with 1" Adapters (Requires 2400551)
35-7805
1" Shaft Kit for Wide Wheels, 14" Long (Requires 2400551)
2003263
Ducati Wheel Adapter (Requires 2000561 and 2400551)
2001355
Honda VFR Wheel Adapter Kit (Requires 2400551)
2001140
BMW Wheel Adapter Kit (Requires 2400551)
EAK0257G76A
ATV/Quads/Golf Cart Centering Kit
EAK0221J84A
Clad Wheek Kit